CorrosionX Ultimate CLP cleaner lubricant and protectant for firearms
Size
1 fl oz
4 fl oz
6 oz aerosol
16 fl oz trigger spray
1 gallon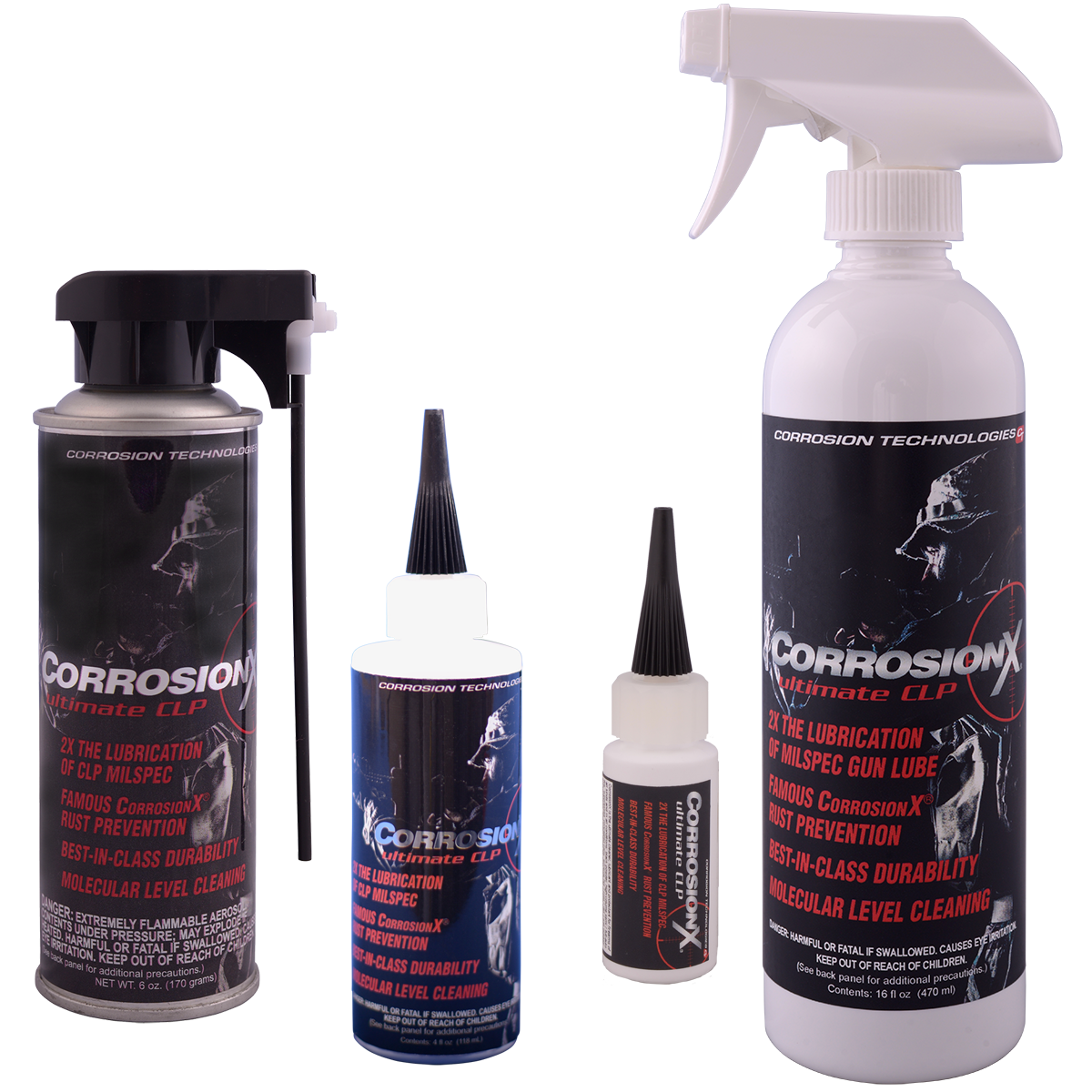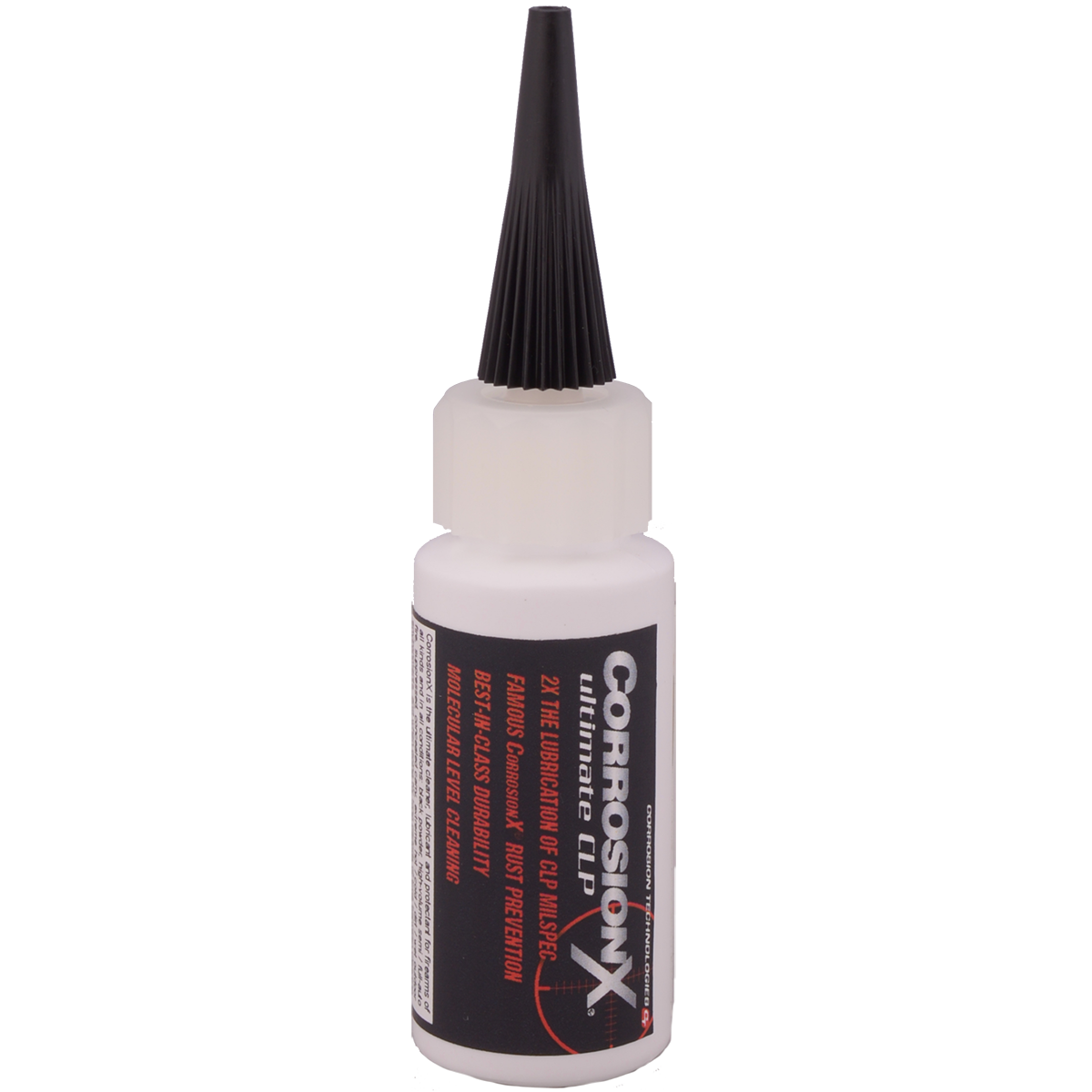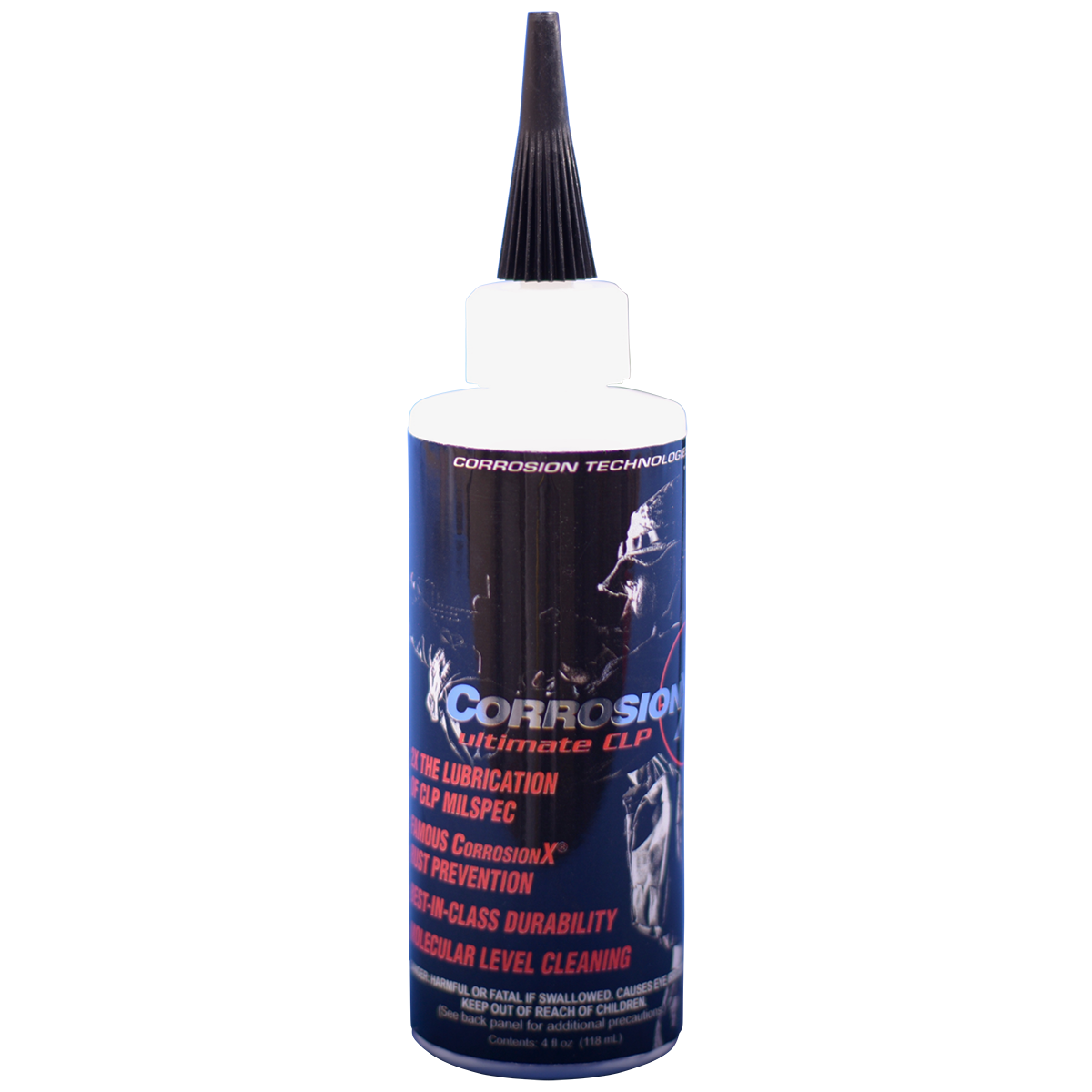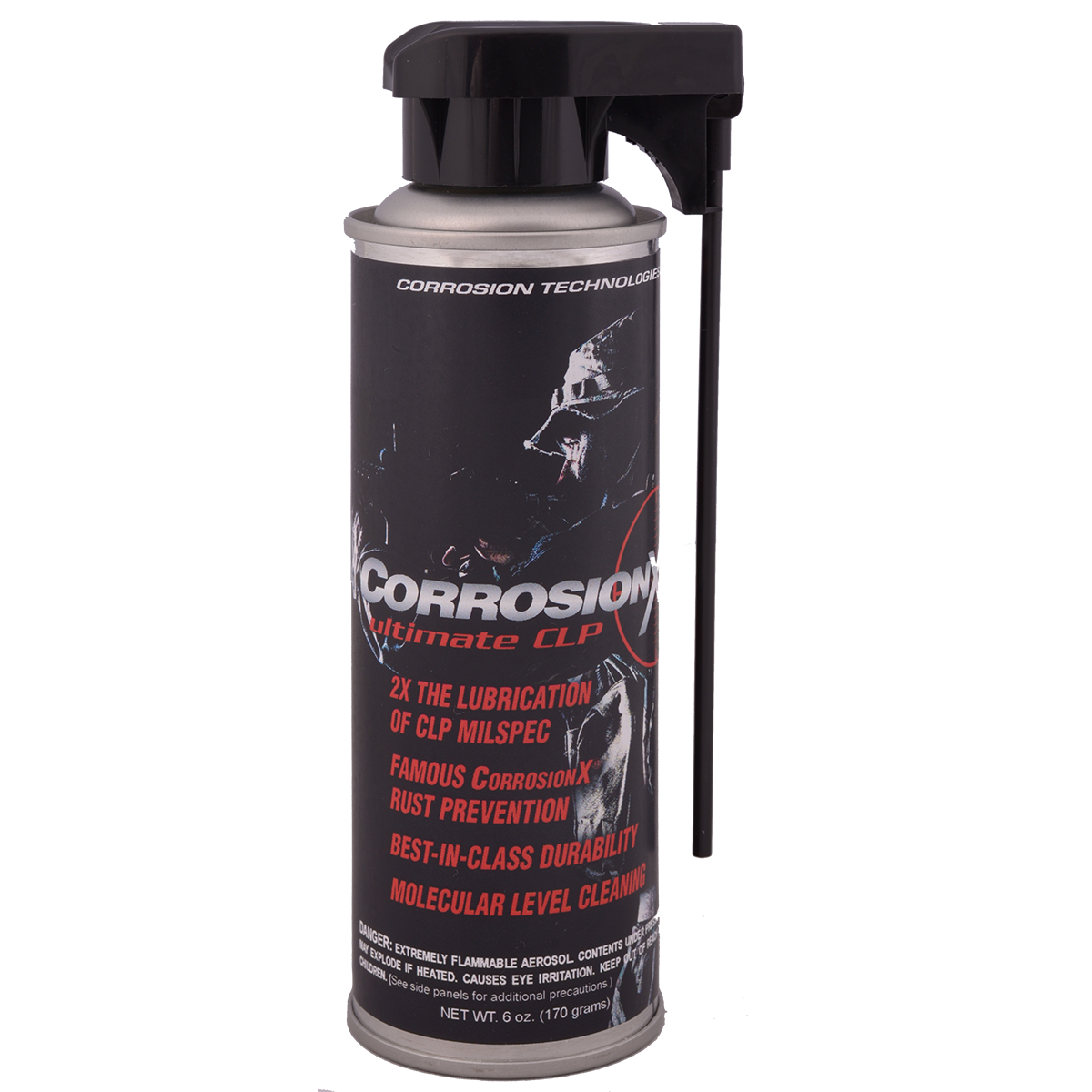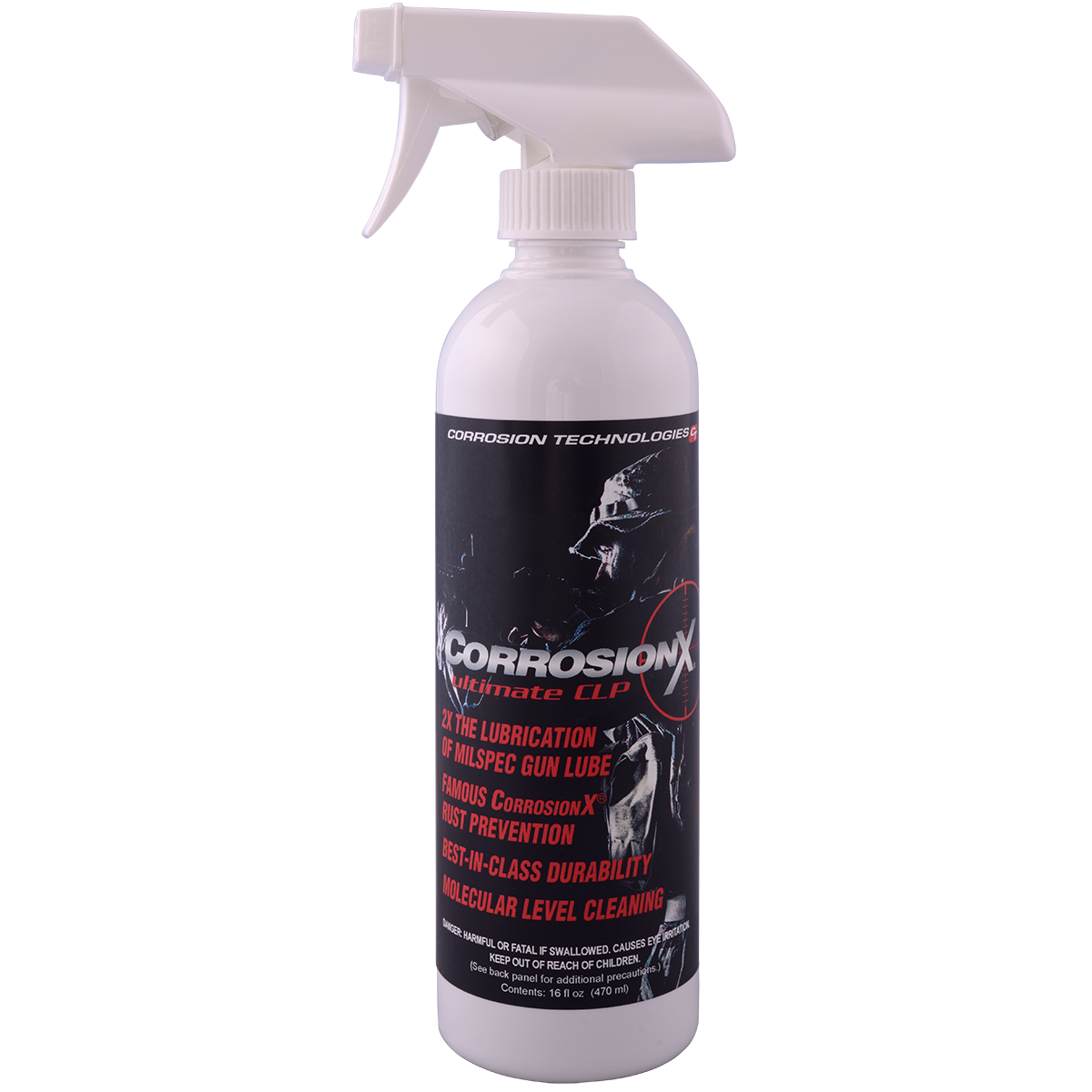 It WORKS!!
This stuff is incredible!! Use to lube firearms, use inside all my locks and keys, all car and house door hinges. It's incredible!! IT WORKS! Just try it and you'll be shocked at how well it works.
Unparalleled game changer!
Best product on the market BY FAR!... I've cleaned/ oiled all of my firearms with this, and quite a few other people's too. They are blown away with how amazing their guns look when I get them back to them, and usually (almost every time) ask if I'll take care of more of their guns.
Since I was taught that a clean weapon will be more reliable, I use this stuff every time I get back from the range. The more you use it, the quicker/ easier it is to clean later. At this point, I can run 300+ rounds of steel case then clean up afterwards with ease. Seriously - I can bore snake the barrel, and it's back to a mirror finish.
Thank you for creating such a "game changing" product!
Still in the beginning stages of testing the product
I applied CorrosionX like I would with any other CLP... This was a HUGE mistake for my lower frame only because of how insanely potent the stuff is. They don't lie when they say it bonds with whatever metal it touches! It did a great job with my upper slide. It's not the best CLP I've used for cleaning, but it's amongst the best. As far as lubrication goes, CorrosionX is in a league of its own. When it came time to clean again, it was still plenty lubricated with hardly, if any, burn-off. And I run my guns hard. On the second cleaning, everything wiped up wonderfully. I've since used it on my Ruger AR 556 and since application have put over 2k rounds through her and she's still plenty lubed. I've only been using the product for about a month now so I can't make any claims as far as rust protection goes, but I will say that it did a phenomenal job at cleaning up rust spots on a Ruger 10/22 that was handed down to me. I was a HUGE fan of Clenzoil CLP and swore by it... still do... but if CorrosionX does a good job at protecting my firearms against rust then it's going to easily take 1st place for my go-to CLP. One previous reviewer complained about the smell... Compared to the vast amount of strong odored CLPs on the market, this is my favorite smelling by a long shot! It's not too strong and has a sweet, almost maple syrup type smell that doesn't linger. Easily the best lubricating CLP on the market, almost the best cleaning and soon to find out if its the best protectant.
Thanks for the thorough review! One of the reasons CorrosionX cleans differently (also the reason that the smell doesn't knock you over) is because of its unique technology. CorrosionX contains very little solvent. So it doesn't 'dissolve' fouling, but it cleans much deeper. You can try this out by scrubbing bores all you want with any sort of bore cleaner you prefer. You can even sonically clean. Then spray come CorrosionX in, let it sit, run a patch through and we GUARANTEE you'll get more fouling out. And be prepared to kick that Clenzoil to the curb. Most people don't realize that CorrosionX is – by far – the best and longest lasting gun lube on the planet. But CorrosionX products are generally recognized as the corrosion prevention and control leaders in all the categories we play in.
Has no equal in preventing corrosion
The absolute best corrosion prevention and lubrication product on the market. Doesn't gum up with age. Prevents rust more effectively than anything else I've ever used. Far more effective than CLP or regular oil. A truly great product.